The Homes
If your idea of a park home is that of an oversized caravan, think again! Shrug off that first impression and take a step through the front door - you'd often be mistaken for thinking you were inside a luxury cottage or contemporary apartment, depending on the interior style. From the outside there is very little difference in today's most modern residential park homes to a conventional brick built bungalow. As the park home industry has developed and grown over the past 20 years the build quality and interior furnishing options have also improved enormously, so more than ever before park homes tick all the boxes and more.
All of our park homes are available fully furnished with brick skirts and steps. Optional extras included garages and block paved driveways.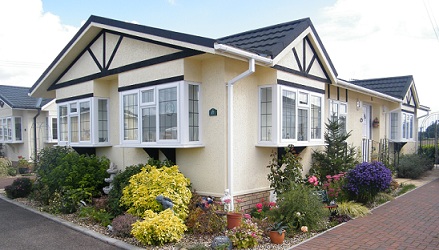 Design
Park homes are generally built and located on spots where they will make the best use of natural light. You will find good sized rooms with well designed layouts. Built-in wardrobes, double-glazing, central heating and carpets tend to come as standard and manufacturers offer an unlimited range of designs incorporating fully furnished interior design packages with luxury kitchens and bathrooms. Communicating with the park home manufacturer allows you to have your home built to your own personal specifications and it will be delivered straight to the site, ready for the "big move".
Efficiency
Low maintenance and good insulation are further benefits of park home designs – you may even be delighted to discover that they've been known to offer greater energy efficiency than brick built properties.
The Lifestyle
Low maintenance and the ability to release a little capital to enjoy a happy retirement are only two benefits of park home living. Being with like-minded people can be a hugely rewarding too. Here at Bury Park we have an active residents association which you can be involved with as much or as little as you like. There's something on offer for all interests, from days out rambling as a group, trips the theatre, coffee mornings and quiz nights. We can't possibly mention everything here as there's always something new and interesting to enjoy! We also have a communal outdoor area which is perfect for barbeques and get-togethers, looking out over open countryside. It's also a secure environment too. The park has operates a gated entry system at night.
Peace of Mind
All new park homes manufactured by members of the National Park Homes Council (NPHC) are eligible for the Platinum Seal Ten Year Warranty.
The scheme provides broadly similar protection to the National House Building Council's Warranty. From the day you move into your new park home, you can be assured that you have protection in the unlikely event of any structural defect in the home within 10 years of living in the home. In addition, for the first year, the park home is completely covered to include every part, component, fixture and fitting.
Park home manufacturers have such confidence in the quality of their park homes, that the Platinum Seal Warranty is included free of charge when you purchase your new park home.
The Platinum Seal Warranty is now offered by approximately 50% of park home estates, so you must make sure that the park of your choice is registered to operate the scheme. All park homes covered by Platinum Seal comply with British Standard 3632. This British Standard specifies the minimum requirements for design and manufacture to ensure the park home meets certain health and safety standards.
For further details, please contact:
Park Home Assist Insurance Services
Royal House,
Newport Pagnell Road West,
NORTHAMPTON,
NN4 7JJ
Tel: 01604 946 791